Children with Cancer UK - New Brand Launch
For Children With Cancer from 17/09/18 and is Featured in Showcase
Conversion
Digital Out Of Home
Integrated
Public Sector - Brand Strategy
TV/Cinema Media Buying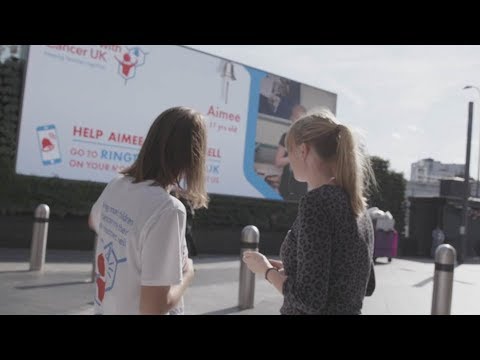 THE CHALLENGE
Children with Cancer UK is one of the UK's leading national children's charities, dedicated to improving the lives of children suffering from cancer.
After investing in a comprehensive rebrand, they tasked us with delivering a new multichannel campaign that would publicise their new brand identity, whilst still driving the vital donations needed to support their lifesaving work.
THE SOLUTION
Following their rebrand, Children with Cancer UK's new logo and ad creative centred around the 'end of treatment' bell that cancer patients ring to celebrate the end of their treatment, so we used this as inspiration for an impactful Digital Out of Home campaign.
We began with an experiential day at Westfield Shopping Centre, which featured an interactive Out of Home screen that encouraged those passing by to type their first name into a web address on their mobile phone. By doing so, they were then able to shake their mobile to ring the bell on the screen and received a personalised thank you message.
This impactful campaign was supported by extensive DX3 activity across London Underground, as well as a refined TV strategy. In addition to booking through Children with Cancer UK's core TV stations, we also invested in national primetime spots during the 'Pride of Britain Awards', 'I'm A Celebrity… Get Me Out of Here' and 'Long Lost Families', all of which drove a significant amount of premium SMS donations.
THE RESULTS
21M+ adult impacts
98,159 delivered premium SMS
34% increase in TV ROI year-on-year
"Developed in partnership with Accord, our latest multichannel awareness campaign has delivered above and beyond our expectations. Using a tactical combination of media buying and audience insight, Accord have significantly increased our brand awareness in the UK as well as driving both one-off SMS donations and sign-ups to regular giving. These donations have played a key role in allowing us to continue the charity's vital work and we look forward to continuing to work with Accord."
- Jag Jandu, Senior Manager Individual Giving at Children with Cancer UK